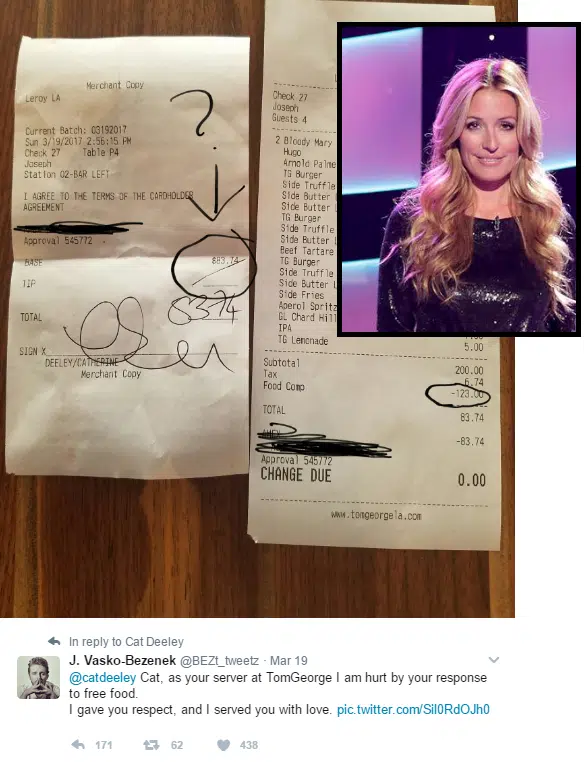 Cat Deely, Host of So You Think You Can Dance,  is being questioned on Twitter, and really everywhere now, after she tweeted about a restaurant she recently visited and reaaally did not like.
Turns out, Cat did not leave any tip AT ALL. Her bill was $200 initially, but the restaurant took off $123 most likely for compensation of the not so wonderful service/food/whatever the real reason was.
She tweeted "The most disgusting restaurant , terribly run , by a manager – who can only be described as an amateur. Avoid at all costs. #tomgeorge" and "The food was terrible and your manager was unhelpful and rude. Respect and love should be shown to all,attention to detail is necessary too!"
Her waiter tweeted back saying "Cat, as your server at TomGeorge I am hurt by your response of free food. I Gave you respect and served you with love"
She tweeted back to an article about the matter saying "Just to be clear. Our order arrived at the table incorrectly FIVE times! Then one of my guests dishes was inedible. There was zero service."
In most cases, the server relies mostly on tips to make their money, even having to take money out of their own pocket to "pay out" kitchen and bar staff at the end of the night if the tip was not enough.
Thoughts on the matter? Is it ever okay to NOT tip?
-Julia #RightInTheJules