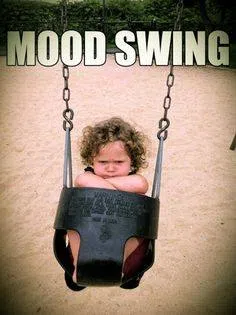 According to a recent survey, listening to the radio is the #1 way to to get yourself out of a bad mood in the morning (no, we didn't make that up!). WikiHow.com says these may cheer you up too:
-Pray or meditate.  Having a spiritual life often makes people feel happier.
-Read a book or watch a favorite television show or movie
-Make yourself laugh. Laughing can actually change the chemistry in your body
-Smile. Acting happy can actually boost your mood
-Exercise. There is a strong connection between moderate exercise and mood elevation in as little as 5 minutes.
-Listen to music
-Dance
-Eat some high-quality dark chocolate.  The antioxidant properties in dark chocolate can actually make you feel better! Try to limit your consumption to a small portion like one ounce per day (ya right!)
-Spend time with a friend (in person, on the phone, video chat)
-Unplug from social media. Recent studies have shown that moods expressed on social media can be contagious. Reading your friends' negative statuses could be affecting your mood more than you realize
-Go outdoors and enjoy nature
-Complete something on your to-do list
-Help others / Volunteer