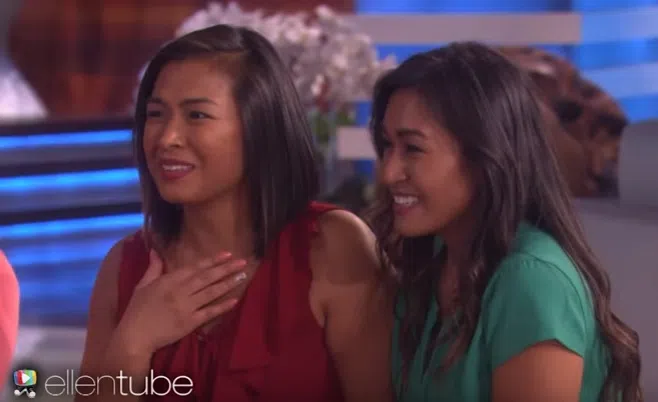 LETHBRIDGE NEWS NOW –  A Lethbridge woman and her sister got the thrill of a lifetime, after they were  featured on the hit daytime show "Ellen" recently.
Sarun Smythe says her best friend Carly Cruse received four tickets to the show after requesting them for months.
Smythe and her sister Saroeun Ray, along with Cruse and her mother, then travelled to Los Angeles excited to finally be able to take in the show.
While waiting in line to get into the studio, Smythe says producers asked the group a few questions and they were then asked to meet in a specified location prior to the show taping.
"They go and tell you where to sit and stuff like that. It wasn't until our names showed up on the screen, did we know that we were playing the game. Up until that moment, we didn't know. We were shocked."
The sisters were picked to play something called "Danger Game," a word association game where one person gives hints to the "winning" word, and the other is placed in front of mini cannons.
If the person in front of the cannons does not guess the "winning" word, or if the other team gets it, then the loser is hit with water, powder or slime.
"It's kind of a blur," Smythe gushes. "I remember giving her (Ellen) a little hug. She asked us a few questions and then she pretty much told me to sit down. And then we played the game."
Smythe didn't answer the questions correctly and was doused in water, powder and slime. But that didn't bother her too much.
"Right away I was taken backstage and someone was kinda cleaning me up, and they just handed me new clothes to change into, and I kind of cleaned myself up a bit, and I waited backstage while Nicole Kidman was on."
The sisters EACH got a 55 inch TV for their troubles, which was delivered to them just last week, so they didn't have to worry about duty or shipping costs.
She says it was an incredible experience, and while the group was just excited to go and see the taping, it was remarkable that she and her sister were picked to be on the show.
"We were pretty stoked about that."