Hey guys!
If you've seen some of those sad polar bear climate change videos in your Facebook feed, this may cheer you up!
The Nunavut government says there are TOO MANY polar bears!
For years, polar bears have been used as an icon in the fight against climate change.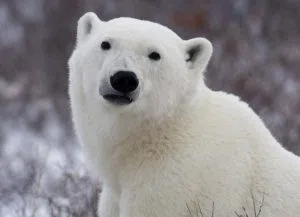 Their government says climate change hasn't affected any of them, and the bears are extremely adaptable!
This is great news if you're a bear lover!
However…
Some Inuit believe there are now SO many bears coming into the communities that public safety has become a major concern…
So some residents are nervous…
Somebody get this guy a bottle of Coca Cola.
~ Gillian MacLeod