Canada's Emergency Alert system is being tested this afternoon at 1:55PM local time.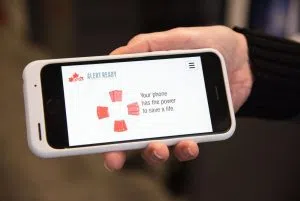 The alert will be heard on the radio, seen on television, or your phone could send you a message and it's NOT a pleasant sound!
The test will likely last approximately 50 seconds, but it could run up to two minutes in a real emergency.
Aren't you glad we're giving you a heads up!?
Because this guy in Hawaii didn't get a heads up, and he was SO startled by an emergency alert that he actually had a heart attack!
It happened shortly after a false missile alert went off…and now he's SUING the state of HAWAII! :0
The incoming missile alert was mistakenly sent to all Hawaii residents in January.
So heads up!!  Today's alert…is just a drill 😉
~ Gillian